Battery Analyzer : Testing Cycling System – PCBA 5010-4 : Precision Computerized Battery Analyzer
Battery & Cell : Testing & Cycling Equipment with Windows USB 2.0 Interface and Integrated Access Database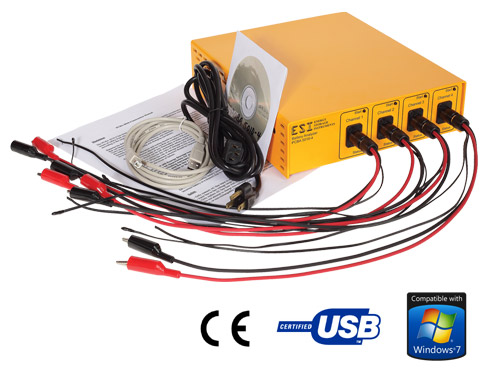 Battery & Cell - Tester & Cycler - for All Types of Rechargeable Batteries
Battery analyzer : testing & cycling equipment design and manufacturing for secondary batteries. We charge and test all types of rechargeable battery chemistries including lithium ion (all types), lead acid (deep cycle), nickel cadmium (NiCd) and nickel metal hydride (NiMH).
Micro-Controller Battery Analyzer Software
Use of switch-mode power supply technology coupled with advanced micro-controller software and Windows interface programming make our battery analyzer and battery charger products the most modern and versatile available.
CE Certified & Lifetime Warranty
Twenty-five years experience at battery tester and charger equipment design and manufacturing. Industries and applications served include: Commercial and Industrial customers, Quality Assurance Testing, Research & Development, Education Sector and Universities, Laboratory, Aerospace, Military and Small Business. Plus any others who simply need the ability to test and evaluate rechargeable batteries at an affordable price.
Battery Testing & Cycling for: Lithium ion, Lead Acid, NiMH, NiCd
PCBA 5010-4 : Precision Computerized Battery Analyzer
50 Volts, 10 Amps, 4-Channels – Windows USB 2.0 Interface with Integrated Access Database

Features
200 Watts of battery analyzer power delivered through four independent channels by the click of a mouse on your Windows PC
400 Watts maximum power capability in teeter-todder fashion when 200 Watts charge while 200 Watts discharge simultaneously
New version 3 hardware has improved channel charge/discharge current control accuracy, calibration and temperature compensation and CE certification
Lifetime warranty. If it breaks for some unknown reason, we fix it for free
Channels eliminate need for four wire Kelvin connection voltage measurement through use of firmware calculation and calibration setting
Calibration setting can be user adjusted depending on length of test leads being used to compensate for IR voltage drop.
Read More
Additional Features
Unique data record format for standardized battery testing with data points recorded every 0.5% rated capacity. (200 points = 100%)
Effective recondition function for NiCd, NiMH and now SLA or deep cycle lead acid batteries as of February 2015. Channel firmware.version 2.07, PCBA.exe version 1.57
Full speed USB 2.0 interface that supports more than 100 battery analyzers and over 400 channels simultaneously
Microsoft Windows interface with integrated Access database support for battery management, analyzer configuration and test results
Graphical charting of data with zoom and pan features for easy viewing of test results and identifying battery performance and problems
Services all rechargeable battery chemistries up to 36 Volts and up to 200 Amp hour in size, up to +/-10,000 milli-Amps/Channel
Read More
Battery Capacity Testing and Cycling Equipment for:
Nickel Cadmium (NiCd)
Nickel Metal Hydride (NiMH)
Lithium-Ion (all types)
Lead Acid (deep cycle)
Thanks to the PCBA 5010-4 battery analyzer and its analytical versatility, the Panavision Dallas' customer battery failure rate on set has been significantly reduced if not completely eliminated due to cell failure.
- Lee Godwin - Manager, U.S. Regional Operations
The build quality and feature set of the PCBA 5010-4 battery analyzer is far superior to any other battery analyzer I've used to date, having the ability to analyze all battery chemistries that we rent while logging and storing the results was a requirement of this unit. The unit does this and more.
- Christopher Konash - Manager, HD Engineering & 3D Technologies
We began using the PCBA 5010-4 about 2 years ago with outstanding results. We have improved productivity and find the 5010-4 to be reliable and accurate. The PCBA 5010-4 eliminates the need to carry along additional equipment when we are testing outside of our lab. We can discharge test and recharge the samples with the same piece of equipment.
- Kenneth Hurst - President, Telecom Services Group, LLC
Read More Product Reviews
Start Testing with the PCBA 5010-4 Battery Analyzer